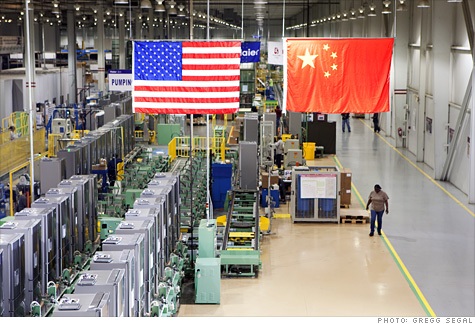 As the RMB strenghtens and this take-offs across the U.S., it'll be interesting to see how it plays out politically, culturally, and economically.
From
Fortune
...
Yuncheng is a Chinese company. It has come to South Carolina because by Chinese standards, America is darn cheap. Yes, you read that right. The land Yuncheng purchased in Spartanburg, at $350,000 for 6.5 acres, cost one-fourth the price of land back in Shanghai or Dongguan. Electricity is cheaper too: Yungcheng pays up to 14¢ per kilowatt-hour in China at peak usage, and just 4¢ in South Carolina. And no brownouts either, a sporadic problem in China.

Ling recruited Yuncheng to Spartanburg, and others too: Chinese companies have invested $280 million and created more than 1,200 jobs in South Carolina alone. Today some 33 American states, ports, and municipalities have sent representatives to China to lure jobs once lost to China back to the U.S.: Besides affordable land and reliable power, states and cities are offering tax credits and other incentives to woo Chinese manufacturers.