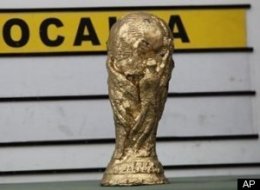 A drug dealer's exercise in time appropriate creativity.
From
HuffPo
...
Fans worldwide have fashioned replicas of the World Cup trophy out of everything from papier-mache to plastic. But a lawbreaker in Colombia gets top prize for most original material: cocaine.

Colombian authorities found the unusual statue during a routine security check by anti-drug agents Friday in a mail warehouse at Bogota's international airport.

The 14-inch-high statue was inside a box headed for Madrid. The statue was painted gold with green stripes on the base. Laboratory tests confirmed the cup was made of 24 pounds of cocaine.